RedPort XGate Satellite Phone Data Services for iOS 9 Now Available
Suite of satellite phone services including email, weather, web browsing and social media posting updated for Apple's mobile devices operating system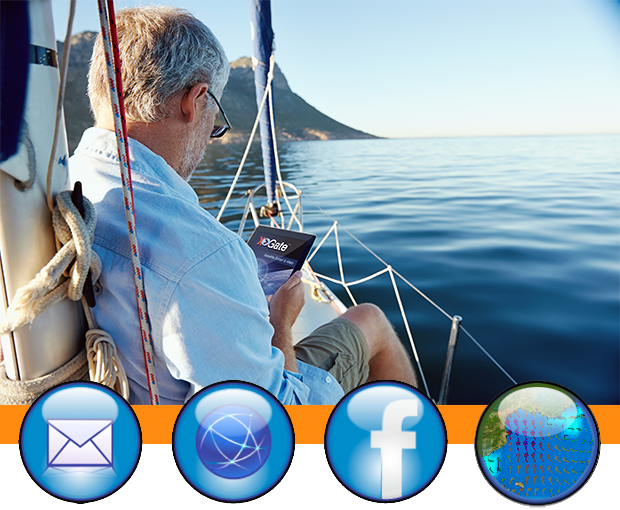 MARYVILLE, TN September 29, 2015 – RedPort Global, the leading independent provider of satellite email services and solutions, today announced the availability of RedPort XGate satellite phone data service for iOS 9. The XGate suite of data services enables satellite phone users to easily and affordably access satellite-optimized email, web-browsing, weather and oceanographic forecasts and update their social media networks.
"The XGate service, in conjunction with the RedPort Optimizer Wi-Fi router, was the first product that let customers use their smartphones and tablets, including the Apple iPhone and iPad, to affordably access the Internet over a satellite phone," said Dr. Luis Soltero, CTO of RedPort Global. "This new release was timed to coincide with the release of iOS 9, and underscores our leadership in mobile devices in the satellite industry."
XGate services include:
Accelerated Email– Email service offers up to 20 times acceleration versus uncompressed speeds, saving up to 95% on satellite airtime
Accelerated Web Browsing – Compression uses a web proxy service to provide users with 3-5 times average web acceleration, while also blocking ads, checking for malicious sites and compressing images
Mobile Weather Forecasts – Users easily get free mobile forecasts , showing weather and oceanographic data forecasts with data provided by NOAA.
Social media – Users can post text and photos to Facebook and Twitter over satellite and cellular narrowband devices
Blogging – Users get free access to a Sailblogs premium basic account to help them share their adventures while traveling with their Isatphone
In addition to iOS, XGate apps are available for the following operating systems:
Microsoft Windows
Apple Macintosh
Google Android smartphones and tablets
 
Network Compatibility: XGate works with all major mobile satellite service providers, or any wireless or terrestrial Internet connection, including: satellite broadband equipment including:
Globalstar
Inmarsat
Iridium
Thuraya
VSAT systems

About RedPort Global
RedPort Global, the leader in advancing satellite data speeds and services, helps Fixed and Mobile Satellite Services providers and their customers by offering the industry's fastest, most reliable and easy-to-use email, web, and other hardware and software services to maritime, oil and gas, first responder and business continuity users. The company's products include XGate high-speed satellite email, WeatherNet weather and oceanographic data software, and vessel tracking systems. Ship to shore marine satellite solutions are offered as branded or white-label solutions for the world's premier satellite data service providers. RedPort Global is a Global Marine Networks brand.
For more information on how RedPort Global is Making Airtime Count™ – whether ship to shore, or in remote or emergency communications environments visit https://www.redportglobal.com
 

###