XTracker GS: GPS Vessel Tracking
RedPort XTracker GS allows you to track your assets and vessels anywhere within the expansive Globalstar Simplex coverage area. With a handy online tracking platoform and a private, dedicated tracking account for one or many tracked vessels, you can easily track your ships or assets in real-time. Powering can be done over Ethernet or via a 6V external battery.
Track Your Vessels Up to Every 2.5 Minutes
Position reporting frequency is determined directly on the tracking unit and can be set at the following frequencies:
60 minutes
20 minutes
5 minutes
2.5 minutes*
*Requires additional monthly fee.
---
Easy Installation for Secure Vessel GPS Position Tracking
The RedPort XTracker GS is enclosed in a 7-inch watertight dome that has been proven to withstand extreme cold and heat. Power over Ethernet means that long lines of cable can be run without losing quality or increasing cable size. The XTracker GS is installed quickly and easily on a standard 1″ threaded antenna mount.
---
Up to 10 Years of Battery Life
The XTracker GS can be powered in one of two ways: either by connecting the unit directly to a powering bank on board, or by wiring the unit to a standalone long-life battery (purchased separately).
Depending on the type of battery being used, the XTracker GS can last as long as 10 years without changing the battery or needing any kind of upkeep.
---
RedPort Tracking: Everything You Need for Web-Based Tracking
Tracking for the XTracker IR is provided through RedPort Tracking and consists of a detailed, robust online tracking interface that provides:
Real-time Position and Tracking
Longitude and latitude info
Emergency alarm/ SOS/Movement alarm/ Overspeed alarm/ Border crossing alert.
Geo-fence alarm
Course and Speed (on web-based tracking site)
Web-based tracking or mobile-phone-based tracking
Central Monitoring system (web-base)
History of tracking movements
Ability to track hundreds of vessels or assets on one web-based monitoring system
Additionally, a fee for the airtime required to send the satellite GPS pings may be required by your satellite dealer. Contact your dealer to learn about airtime fees and pricing.


---
Specifications
Power: Power Over Ethernet or 6V External Battery
Expected Battery Life: 
6V, 14Ah = 3 months at 5 min intervals, with 24/7 tracking
6V, 14Ah = 10 months at 5 min intervals, with 8 hours a day of tracking
6V, 14Ah = 2.5 years at 60 min intervals, with 24.7 tracking
6V, 14Ah = 7.5 years at 60 min intervals, with 8 hours a day of tracking
Waterproof: Waterproof up to a depth of 1m or for up to 30 min
Operating Temp: -22 F to 158 F (-30 C to 70 C)
Operating Alt: -328 ft to 21,320 ft (-100 m to 6,500 m)
Speed Warning: Accuracy degrades after 700mph (Mach 1)
Height: 7.28 in Dia (185mm)
Width: 7.08 in High (180mm)
Weight: 4 Lbs (1.81 kg)
Wi-Fi: 802.11 b/g
Certifications: FCC, CE, RoHS
---
Get the Brochure
Download the XTracker GS Brochure
---
Coverage Area for XTracker GS
The coverage area for the XTracker GS spans the Globalstar Simplex network.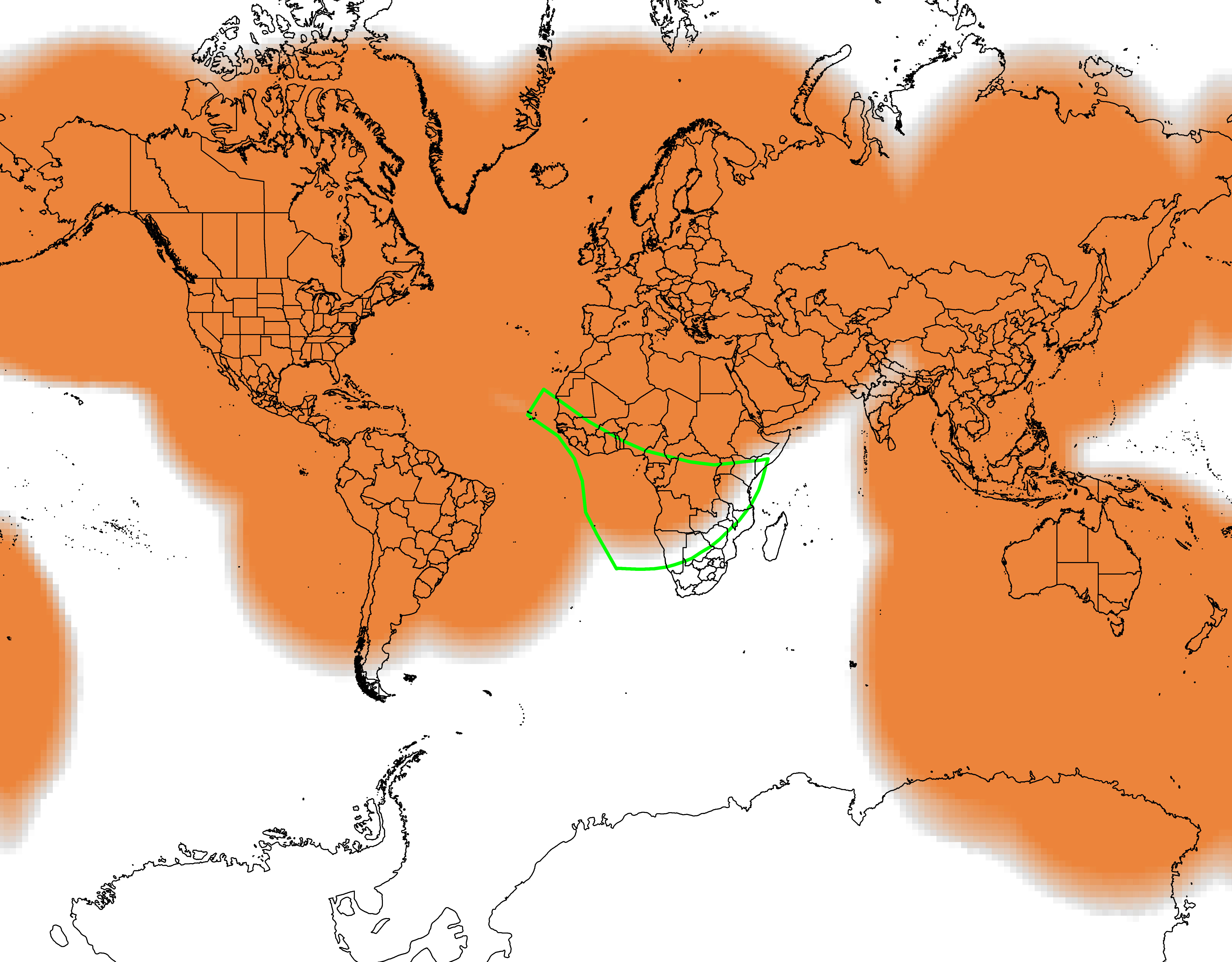 ---