XGate Satellite Email and Data Services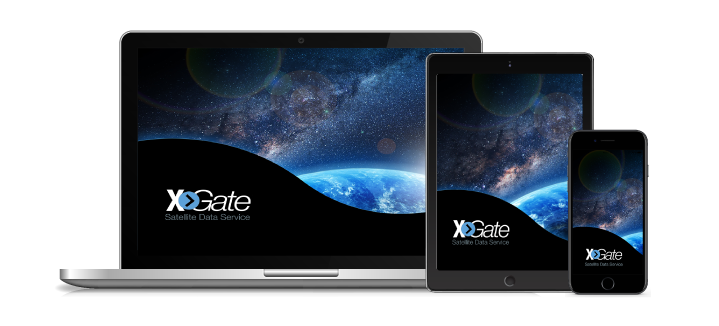 RedPort XGate Satellite Data Services Suite
XGate is the world's leading satellite data services suite, relied on by satellite service providers and individual users alike. It offers the services satellite users need, with the data optimization to make it easy and affordable to use. Email, web, weather, and social media via satellite are suddenly fast and affordable and available on the devices customers want to use. XGate is saving users valuable airtime dollars while optimizing (and increasing) satellite airtime usage.
Individuals pair XGate with the RedPort Optimizer WiFi Hotspot and Firewall to achieve the most compression, ease of use, and utility for a satellite phone connection. Multi-user installations of XGate run on RedPort wXa routers or dedicated PCs to provide a complete email solution for ships and remote work sites. Ship operations and crew welfare communications are both optimized with these enhanced versions of XGate.
The XGate Ecosystem - Compatible hardware and software
Leading software providers from around the world have adopted XGate as the de-facto standard for satellite data delivery, including PredictWind Offshore, Expedition, Weather4D,  iNavX, SailGRIB, and Weathertrack. XGate compatibility is built into satellite routers, terminals and docks from providers including Globalstar SatStation and Sattrans.
Why Use RedPort XGate Satellite Email?
XGate is the easiest and fastest way to check and send email while on the water or in remote locations. Without XGate, connecting to data over a satellite phone can be difficult: uncompressed email and web-browsing over a slow satellite connection means long wait times, dropped connections, and expensive airtime at the end. Furthermore, connecting a mobile device or laptop up to the data feed created by a satellite phone often requires complicated setups, driver compatibility issues, and software. Lastly, getting satellite to work with iOS, Android, Mac, Linux, and some Windows systems is often impossible.
XGate solves all these problems and delivers unbeatable satellite communications. Best of all, XGate works with either a dedicated email address for maximum security and performance, or your existing email services, like Gmail, iCloud, Yahoo! Mail, or your corporate mail service. All easy to use, all while saving up to 95% on valuable satellite airtime.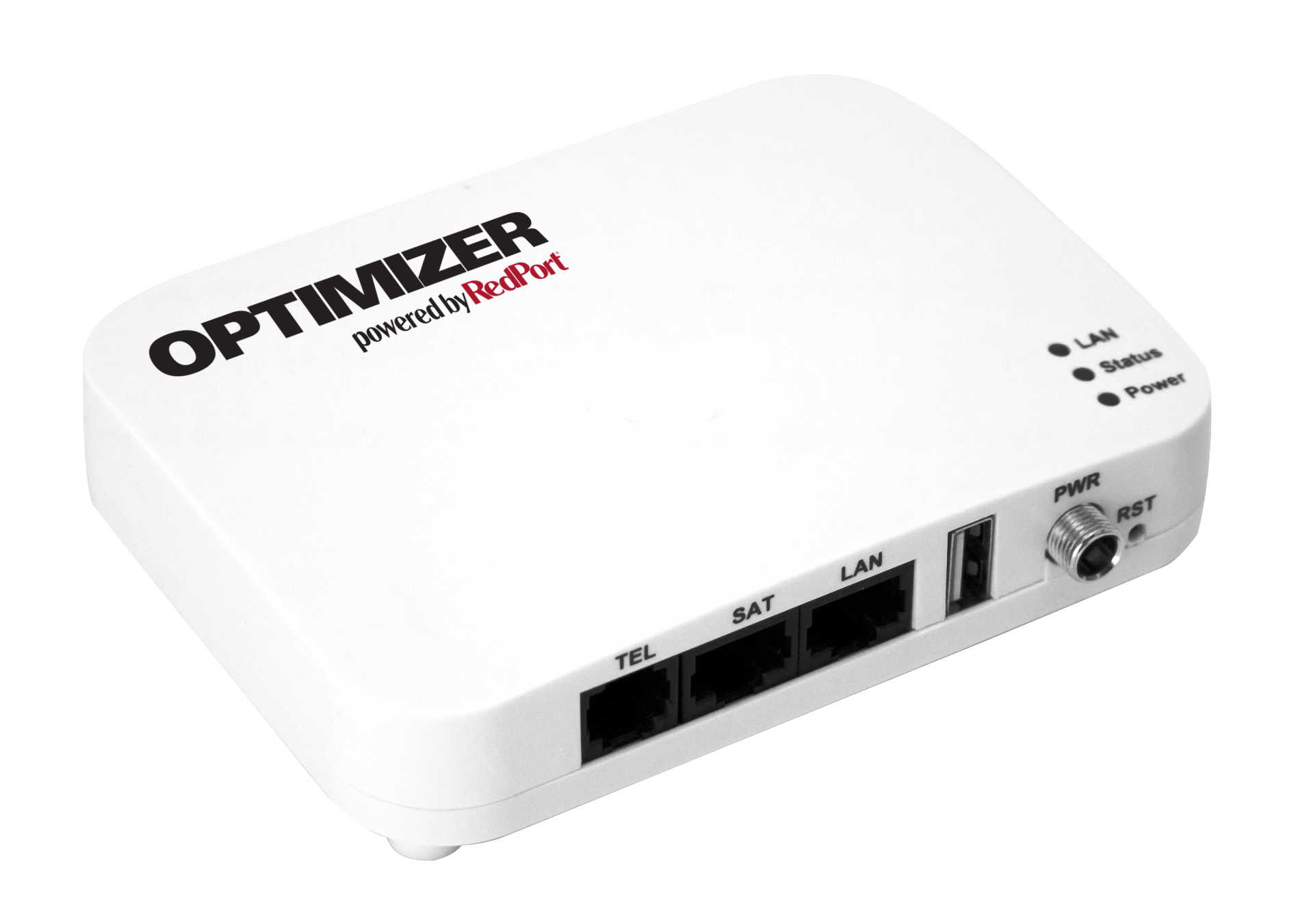 Mobile Devices + Satellite Phone
Working in tandem with RedPort Optimizer, XGate is the world's first satellite email service to connect mobile devices to a satellite phone. From iOS mobile devices like iPhone, iPod Touch, and iPad to any Android mobile device, and including any current Windows, Liunx, or Mac computer - XGate and Optimizer keep you connected.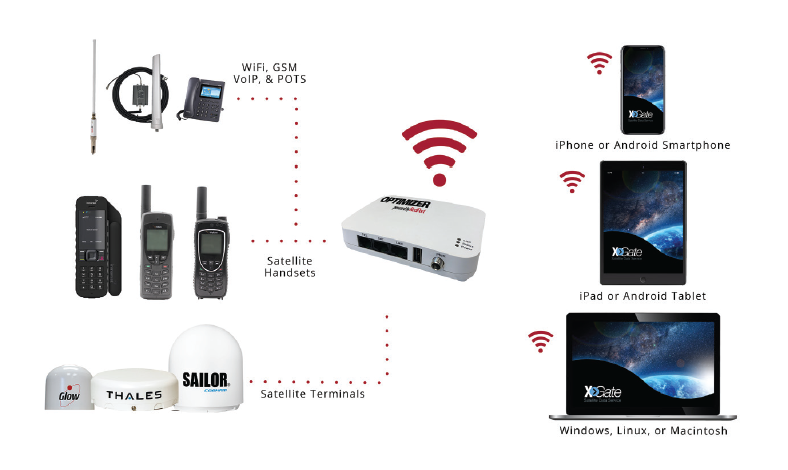 RedPort XGate Satellite Services
It's easy to get started. Just run XGate and it will do the rest - set up your account and dial out your satellite phone when you decide. XGate also works with an IP-based satellite phone or terminal. This includes phones and terminals from all the major satellite providers like Iridium, Inmarsat, Thuraya, Globalstar, VSAT, and MSAT.
Satellite Phone Email - Fast, Easy, Affordable
XGate provides all the benefits of a fully-featured email service - right over a satellite feed. With XGate, emails can be written and read offline (saving airtime) and then, with a press of a button, XGate dials the satellite phone, makes the connection, and hangs up when it's done. If the call drops (which can be a problem for some satellite phones in some regions), XGate can redial and simply pick up the data transfer where it left off. Only XGate also eliminates the back-and-forth of email protocols before using satellite airtime. XGate provides you with a new email address or maximum security and performance, and it works with your existing addresses such as Gmail, Yahoo! Mail, Hotmail, or your corporate address.
Accelerated Web Browsing
Browse the web over satellite with compression. XGate's XWeb compression loads pages up to 10 times faster, compresses pictures and text, scans for virus and malware, and provides overall protocol compression. This means you get your web-pages 3 to 5 times faster (and benefit from 3 to 5 times the airtime savings).
Weather Forecasts via iOS and Android
Get weather forecast data from NOAA right on your iOS or Android mobile devices with XGate Weather. Powerful, flexible and customizable, XGate Weather is a quick way to get basic weather information at your fingertips. Features include:
Multiple locations: current GPS location, location by airport code, or enter a specific GPS location.
3-7 days user selectable forecasts
1-6 hour display frequency
Metric and Imperial measurements support
Selectable weather parameters, including: Temperature; surface pressure; mean sea level pressure; Wind speed; wind direction; wave period; wave height; visibility; wave direction; rain, freezing rain, ice, and snow forecast; UV index; convective precipitation; total precipitation; cloud cover; atmospheric instability; dew point; perceived temperature and thunderstorm probability.
Weather Forecasts via GRIB: Receive GRIB files right to your inbox with XGate. All your weather information needs easily within reach - and with the same batch compression technology that saves you money and time.
Faster. Cheaper. Better.
XGate uses only 5% of the data of a standard email program, on average. That means savings of up to 95% on satellite airtime costs compared to using regular email without XGate. Faster, cheaper airtime means more usage in the long run, because you get so much more for your money. These compression savings mean that a data transfer that would take 60 minutes or more over a standard Iridium connection would only take 3 minutes with XGate.
XGate "BigMail" saves airtime dollars by allowing users to limit large file sizes. By setting a filter, you will receive a notice when a "BigMail" arrives through XGate with the subject line of the email, and the size. At that point you can choose to download it over your satellite connection, or save it on the server until you have access to another connection.
Customizable Email To Fit Your Needs
XGate includes an XGate email address, but you can use your own familiar email address and client (such as Outlook or Apple Mail). There are even options to set the send and receive addresses so others see whatever email address you would like to show them.
Keep Connected With XGate
Update friends and family via email, or any platform that allows posting via email, such as WordPress. Allow friends and family to follow adventures in real time, right as you experience them. You can even post pictures (and benefit from the airtime savings when XGate compresses them down).
XGate Says "Oui"
More than 22 languages available.
SailBlogs with XGate - Now Free!
XGate also offers satellite SMS notification of new emails via Iridium or Globalstar phones.
Share the adventure live. One button updates your blog with text and pictures. SailBlogs shares posts with friends and family right from the boat deck, campsite or job site. For more information, visit: SailBlogs™ with XGate
XGate Pro As Server
XGate works as a full email server for installations with local area networks.
Security: Malware detection, Virus Scanning and Spam Filtering
XGate servers scan every message for viruses and SPAM, blocking them before the go over your satellite system, saving you airtime and keeping your machine clean. XGate also has full DES/PGP encryption for optimum security.
RedPort XGate Pro Premium Services
For a small additional monthly fee, these premium add-ons for XGate open up the possibilities and functionality of XGate services.
XGate Crew Accounts

Crew Accounts lets the administrator create, modify and delete temporary email addresses right on site; easily providing customized and controlled email accounts for temporary crew members or passengers.

XGate File Transfer

XGate File Transfer handling provides automatic inventory control, regular reporting, and logging of data. Once set up, XGate will take local information from a computer and send it as an email attachment automatically.

XGate Email Fetching

XGate will fetch and forward email from multiple addresses so you can access your email accounts with the same speed and efficiency as XGate. XGate works with either a dedicated email address for maximum security and performance, or your existing email services, like Gmail, iCloud, Yahoo! Mail, or your corporate mail service.
Not all XGate features are available on each platform.
Who Uses RedPort XGate?
XGate is perfect for anyone who uses a satellite phone. It works on any system, and lets you get more done in less time, all while saving airtime costs. Whether staying in touch outside of cellular coverage areas, or accessing email for business continuity after a hurricane, earthquake or other natural disaster, XGate has thousands of satisfied users in the following applications:

Commercial Maritime
From commercial fishing and maritime transport to cruise ship internet cafes, XGate serves all levels of commercial maritime activity. XGate is the leading email client for ship to shore communications, maritime IT services, and communication solutions for offshore cargo, transport, passenger, fishing, and oil tankers.

Recreational Maritime
XGate provides email and data services for every level of the recreational maritime market. Because XGate works on a flexible subscription basis, it's perfect for short-term activities like offshore racing and seasonal cruising, coastal cruising and regattas, to more long-term activities like liveaboard cruisers and sailing.

Hikers and Expeditions
XGate is perfect for those traveling to remote locations. Hikers, explorers, and mountain climbers all use XGate to keep in contact with family and friends. Campers, hunters, and even RVers in remote locations use XGate. We've even had clients set up WiFi cafés in their hunting or fishing lodge for guests.

General Aviation
Want to do email in the sky? XGate is a perfect fit for your airborne communication needs. We've helped set up WiFi cafes in airplanes and provided airlines and pilots with the services to allow their guests and crew to access the internet onboard. With XGate, it's possible to stay connected, even at 30,000 feet.

Remote Workers, Emergency Responders, and Business Continuity
Remote workers like offshore oil rigs and exploration expeditions use XGate. Hospitals, ambulance groups, insurance adjusters and others in the first responder industry find XGate to be unparalleled for keeping in contact during crises. We provide service to many levels of government, including the Coast Guard, Police, and research divisions.