RedPort XTracker IR
Iridium Satellite Based Remote Land and Vessel Tracking Solution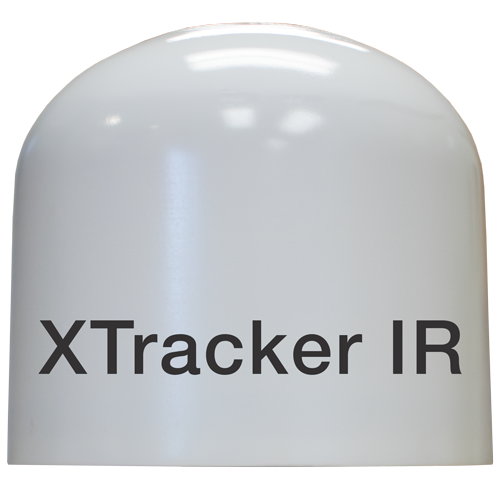 XTracker IR Vessel Tracker
XTracker IR is a robust, dependable, and extremely compact satellite tracking terminal that sends out GPS position reports at pre-programmed intervals from anywhere on the planet. XTracker IR uses Iridium technology and because of Iridium's pole-to-pole coverage, offers truly worldwide satellite position reporting. Position reports contain the date, time, latitude, longitude, and average course and speed over the ground. XTracker's modest power requirements make it ideal for remote locations where solar panels or batteries are the only sources of electricity.
Easy Installation for Secure Vessel GPS Position Tracking
The XTracker IR is installed quickly and easily on a standard 1" threaded antenna mount. XTracker IR starts submitting GPS position reports for satellite vessel tracking immediately upon power-up. Everything is controlled from shore, including position reporting and polling intervals. There are no buttons or switches on the XTracker IR unit.
Up To 10 Year Battery Life
The XTracker IR can be powered in one of two ways: either by connecting the unit directly to a powering bank on board, or by wiring the unit to a standalone long-life battery (purchased separately). Depending on the type of battery being used, the XTracker IR can last as long as 10 years without changing the battery or needing any kind of upkeep.
RedPort Tracking: Everything You Need for Web-Based Tracking
Tracking for the XTracker IR is provided through RedPort Tracking and consists of a detailed, robust online tracking interface that provides:
Real-time Position and Tracking
Longitude and latitude info
Emergency alarm/ SOS/Movement alarm/ Overspeed alarm/ Border crossing alert.
Geo-fence alarm
Course and Speed (on web-based tracking site)
Web-based tracking or mobile-phone-based tracking
Central Monitoring system (web-base)
History of tracking movements
Ability to track hundreds of vessels or assets on one web-based monitoring system
Additionally, a fee for the airtime required to send the satellite GPS pings may be required by your satellite dealer. Contact your dealer to learn about airtime fees and pricing.


XTracker IR Specifications
Compliance
Regulatory
FCC, CE, RoHS
Performance Compliance
MIL-STD 810G, IP66 Compliant
Radome
Height
7.28" or 185mm
Diameter
7.08" or 180mm
Weight
4 lbs  or 1.8 kg
Power Supply and Consumption        
DC input Voltage
12V 2A DC
Internal Battery Life
2500 mAh, 3.7 V internal battery
Environmental Conditions
Operating Temp
-22° F to +158° F (-30° C to +70° C)
Storage Temp
-22° F to +158° F (-30° C to +70° C)
Humidity
5% - 98% non-condensing
Speed Warning:
Accuracy degrades after 700 mph (Mach 1)
Radome Ingress Rating
IP66
Icing (survival)
Icing (survival) Max 25 mm
UV Resistance
Anti-yellowing or discoloration plastics
Mounting
Radome Mounting
1" - 14 threads per inch