Aurora Iridium Wi-Fi Terminal
Iridium Satellite Terminal and Wi-Fi Hotspot for Commercial Maritime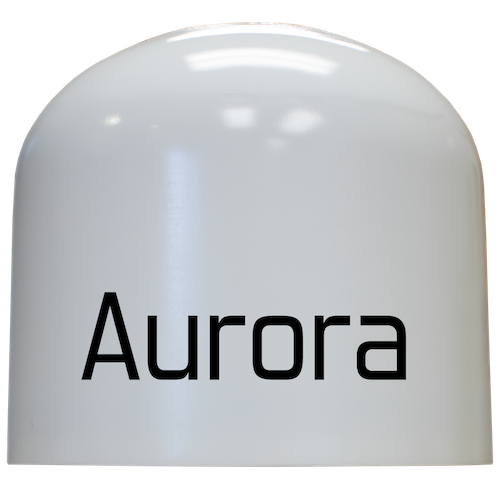 RedPort Aurora Iridium Wi-Fi Terminal
Now, your smartphone is your satellite phone. The RedPort Aurora gives you the coverage of the Iridium satellite network with the devices you already use - your smartphone, tablet, or computer. Want to make a satellite call from your iPhone or Android tablet? Check email and download weather files over WiFi? No problem. Share your location with others? Done. It's voice, data, and tracking. All in one. Anywhere in the world.
Aurora is the world's first satellite phone terminal to provide satellite voice, data, and GPS tracking services via WiFi to smartphones and tablets. All in one terminal. No below-decks equiptment is needed. There is no need for a coax antenna cable. The Aurora is built to be the most convenient solution in the most extreme places on Earth.
Who Uses RedPort Aurora Iridium Wi-Fi Terminal?
The RedPort Aurora is good for anyone who needs voice, data or tracking services with a fixed satellite terminal. It is perfect for anyone who wants to use their smartphone, tablet, or computer via WiFi over satellite, or needs affordable, easy-to-install equipment.
Aurora for Satellite Communications At Sea
On the water, Aurora is a quantum leap improvement over other satellite phone options. It is simpler to install, loaded with features, and more convenient to use than other solutions. Most boaters install a handheld satellite phone, a docking station, an external antenna, an external antenna cable, and a WiFi router...and they still can't use their smartphone to make voice calls over satellite.
Aurora gives you all of that capability, and more, for less money than you would spend on a comparable full handheld satellite phone setup.
Aurora for Satellite Communications On Land
On land, Aurora's self-contained weather-proof dome and single Ethernet cable for power make installation easier and less expensive than fixed phones that require long runs of an antenna cable and complicated network setup.
Aurora Satellite Terminal Features
| | |
| --- | --- |
| Satellite Calls Via Smartphone | The Aurora comes pre-configured for voice. Just download the free XGate Phone app to your iOS or Android device and talk on your smartphone using your satellite airtime. Your phone will connect via VoIP to the Aurora, and Aurora translates the calls into standard satellite voice calls over Iridium so you can use standard Iridium postpaid or prepaid airtime. Call Data Records (CDR's) are available so you can see exactly which line called which number and for how long. This means that it can be used in commercial situations to log usage, and by families to see who is using how much airtime. |
| Onboard Network With Multiple Phone Lines | Up to 4 lines can speak to one another over the local network, giving you a complete local phone system with extension, voicemail, and ringing options. All free. Because Aurora uses VoIP over local WiFi, none of these calls consume airtime. Use Ethernet phones, SIP WiFi phones, or install the free XGate Phone app and use the smartphone in your pocket. This means that a captain can call the kitchen, one room can call another, and then you can check in with your guests - all at the same time. All free. |
| Data Optimization Powered By RedPort | The Aurora comes with built-in data optimization powered by RedPort. Not just any optimization - Aurora includes hardware inside. Aurora blocks unwanted data and handles all the dialing while working hand-in-hand with XGate satellite data service. |
| XGate Satellite Email and Data Services | XGate satellite data service is your gateway to accelerated satellite email, weather, web browsing, and social media. Aurora can also run XGate Crew email, a full POP and SMTP Email server that lets you use your standard email client, and generate local crew accounts for onboard and satellite communication. An XGate-compatible service is required. |
| GPS Tracking for Vessel and Asset Tracking | Aurora special compression technology and advanced GPS engineering allow for the transmission of small bits of data (like GPS pings) at a fraction of the airtime cost of most satellite phones or terminals. This means that you can track your ship at pre-determined intervals. That information can be loaded onto an individualized webpage with real-time tracking information so family and friends can see where you are. Learn more about RedPort Tracking. (Also works with any GSatTrack-based service). |
| Satellite GPS Repeater for Onboard NMEA Repeating | Aurora is an NMEA 2000 compliant GPS WiFi Repeater - so you can share Aurora's GPS data with virtually any of the marine electronics on your vessel - in real-time. Want to steer your boat with an iPad? Now you can. The GPS capabilities of this technology are so advanced that many Aurora users simply pilot their boats with detailed information on their iPad app rather than use a traditional GPS. |
| Easy Installation | The Aurora only has one cable: powered ethernet. There are no power cables, no external antennas to attach, no complicated installation. It is plug-and-play at its very best. |
| The Iridium Network | Iridium is the only truly global satellite network offering unmatched communications, performance, and reliability advantages. RedPort Aurora uses an Iridium 9523 module for reliable satellite voice service and 2.4KBps data services. |
---
Aurora Iridium Satellite Wi-Fi Terminal Specifications
Compliance
Regulatory
FCC, CE, RoHS, AU/NZ
Performance Compliance
MIL-STD 810G, IP66+ Compliant
Radome
Height
7.28" or 185mm
Diameter
7.08" or 180mm
Weight
4 lbs  or 1.8 kg
Power Supply and Consumption        
DC input Voltage
12V 2A DC
Power Requirements
18W
Power Adapter (Included)
110-220V AC to 12V 2A DC
12V DC Amperage Test: Power on and satellite idle:
Peak: .45A/5.4W
Average: .26A/3.12W
12V DC Amperage Test: Power on to fully active bidirectional call:
Peak: .95A/11.4W
Average: .74A/8.88W
Inrush Current:
High resolution peak of ~11A for half a millisecond and tapers off
Iridium Impedance
50 Ohm
GPS Impedance
50 Ohm
Wi-Fi Impedance
50 Ohm
Environmental Conditions
Operating Temp
22° F to +158° F (-30° C to +70° C)
Storage Temp
22° F to +158° F (-30° C to +70° C)
Humidity
5% - 98% non-condensing
Operating Altitude:
up to 10,000 ft (3000m)
Storage Altitude:
up to 15,000 ft (4500m)
Radome Ingress Rating
IP66 minimum
Icing (survival)
Icing (survival) Max 25 mm
UV Resistance
Anti-yellowing or discoloration plastics
Cable
Provided Cable
10m Oil and UV resistant
Mounting
Radome Mounting
1" - 14 threads per inch
Radome Connections
Connections
8-pin Quick Disconnect
Interfaces
Iridium
Integrated Iridium 9523 transceiver
Router
Integrated RedPort Optimizer DHCP/NAT router
Additional Interfaces
WAN, LAN
WiFi
WiFi
2.4GHz, IEEE 802.11b/g, 802.11n