This is a legacy product. You can now access RedPort VoIP services across all of our current routers.



wXa-400 Series – VoIP Gateways
The wXa-400 Series
RedPort VoIP Gateways let you provide affordable, high-efficiency, low-bandwidth VoIP service for VSAT, Thuraya IP, and Inmarsat FleetBroadband users. Postpaid and prepaid rates are predictable and affordable, with flat rates to the world's most commonly called destinations. An unlimited in-network option lets larger companies have very low-cost voice service with their fleets.
High efficiency means better performance and savings on bandwidth. RedPort VoIP services use a proprietary Vobal VoIP codec that consumes only 6 KBps on average for both channels, including all overhead. That means users can speak for up to 20 minutes using only 1 MB of data, therefore saving on airtime.
All RedPort VoIP Gateways support more than 8 simultaneous calls and include an enterprise grade PBX, and all of the services you need: extensions, voicemail, ring-options, conferencing. It's a full onboard phone network.


---
Features and Services
| | |
| --- | --- |
| BYOD – Bring Your Own Device | Works with the phones you already have, no matter what you have – Ethernet, SIP Wi-Fi, via apps on iOS and Android, Mac and Windows. Even analog phones (select models). |
| Prepaid & Postpaid Pricing | Get predictable flat-rate prepaid PIN codes – perfect for crew access, postpaid service for operations, even unlimited in-network plans. For more pricing details, see VoIP Services. |
| Enterprise-grade PBX | Remotely log-in and manage your local network from any Internet connection. |
| High Efficiency | Get better performance and save on bandwidth. A proprietary Vobal codec consumes only 6 kbps on average for both channels, including all overhead. Users can speak for up to 20 minutes using only 1 MB of data. |
---
Who Is It Good For?
RedPort VoIP routers are good for the satellite broadband user who wants to provide a low-cost, high-quality voice network on a vessel, in a building, or camp. The wXa-400 series provides both operations and controlled crew calling with a single unit.
RedPort VoIP devices are Inmarsat compliant.
Cargo/Transport Vessels
Offshore Oil Rigs
Commercial Fishing
Basecamps

---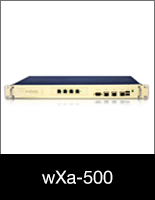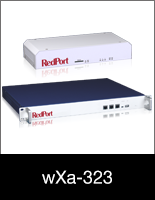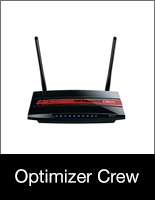 Related Products
Customers who also need data services can add any wXa-300 Series or Optimizer Crew router to their wXa-400.
Alternatively, a wXa-500 router is the most comprehensive solution for satellite data and voice, as it combines both VoIP and data services.
---
The Value Proposition
The wXa-400 Series gives affordable, high-quality Prepaid and Postpaid multi-voice calling for everyone. Inmarsat FleetBroadband, Thuraya IP and VSAT users alike will appreciate the ability to easily offer prepaid and postpaid calling services that hardly use any data – saving you money and retaining throughput for data services.
---
Compatible With:

---
Services Overview
• Up to 8 simultaneous calls per gateway
• Postpaid and In-network Plans
• 6 Kbps Full Duplex, including overhead
• 20 minutes per MB
• Enterprise grade Asterisk PBX
• XGate Phone Softphone App – iOS & Android
• $ Prepaid codes – 30, 60, 120 minutes
$ = Premium Service. Monthly Fees May Apply.
---
Available Models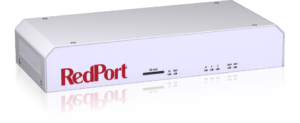 wXa-410 VoIP Gateway- Ethernet or SIP WiFi Only
wXa-414 Rackmounted VoIP Gateway, 4 Analog Ports
wXa-418 Rackmounted VoIP Gateway, 8 Analog Ports
---
Get the Brochure
Download the wXa-400 Series Brochure
---
RedPort Routers
The Right Router for Every Installation

Services

 Wi-Fi Router
& Voice Gateway

Data Router

Data Router

Data Router

Firewall
✓
✓
✓
✓
VoIP Gateway

✓

✓
✓
✓
RedPort Crew Satellite Email
–
Optional
Optional
Optional
Captive Portal for Crew Internet Access

(Shoreside Control of Crew Internet Access)

–
–
✓
✓
Shared Web Compression

Optional

Optional
Optional
Optional
GPS Tracking
Optional
Optional
Optional
Optional
NMEA Repeater
✓
✓
✓
–
Web Filtering
–
Limited
Limited
✓
Quality of Service
–
–
–
✓
Failover/Load-Balancing
–
–
✓
✓
Least-Cost Routing
–
–
✓
✓
Multi-Level Administration
–
✓
✓
✓
OBM Out of Band Management
Limited
–
✓
✓
Caching
–
–
–
✓
Usage Logging/Web-reporting
–
Limited
Limited
✓
Bandwidth Logging
Limited
Limited
Limited
✓
Specifications
Ethernet LAN Ports
1
1
2
1
Ethernet WAN Ports
1
1
4
3
RJ-11 Analog Ports
0
1
1
0, 1, 4 or 8
WiFi Enabled
✓
✓
✓

✓

Max WiFi Range
30m
46m
46m
46m
WiFi
802.11 a/b/g
802.11 b/g/n
802.11 b/g/n
802.11 a/g
Storage
–
8Gb SLC SSD AVai
8Gb SLC SSD Available
8Gb SLC SSD
Power Operating Range
9-18V DC 1A
9-18V DC 1A
9-18V DC 2A
9-18V DC 2A
Certifications
FCC, CE, RoHS
FCC, CE, RoHS
FCC, CE, RoHS
FCC, CE, RoHS
Compact Dimensions
3.8″ x 2.75″ x 1.0″ (97 x 70 x 25 mm)
3.5″ x 1.8″ x 4.4″ (90 x 47 x 110 mm)
6.3″ x 3.1″ x 2.1″ (160 x 80 x 54 mm)
6.6 x 1.2 x 6.2″ (168 x 30 x 157mm) (313)
10.9 x 2 x 5″ (277 x 50 x 126mm) (323)
Rackmounted Dimensions
–
–
–
19″ 1U Rackmount
Enclosure
Compact Weight
0.22 lbs (0.10 kg)
0.56 lbs (0.25 kg)
1.12 lbs (0.5 kg)
1.86 lbs (0.845 kg) (313)
3.85 lbs (1.75 kb) (323)
Rackmounted Weight
–
–
–
10.25 lbs (4.65 kg)
More Info
Learn More about
Optimizer
Learn More about
Optimizer Voice
Learn More about
Optimizer Premier
Learn More about
Optimizer Enterprise
---